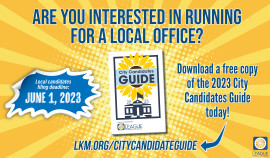 Are you interested in serving on the Neodesha City Commission? Public service is one of the greatest ways you can give back to your community and make a difference.  June 1, 2023 is the filing deadline for anyone interested in serving their community in this very important role.  The City of Neodesha has one (1) position for COMMISSIONER available up for election this year.  This position is for a three-year term.
Interested candidates must complete and submit the Declaration of Intention and Substantial Interest forms along with a $20.00 filing fee to the Wilson County Clerk, 615 Madison, Fredonia, KS no later than noon on June 1, 2023.  Qualified electors may file a petition in lieu of the filing fee which must be signed by 25 qualified electors of the City.  Specific rules and guidelines are in place by the Kansas Secretary of State's office on this process.
If you are interested in running and want to know more about being on the City Commission, stop by City Hall, 1407 N 8th Street, Neodesha, and pick up a Guide to City Candidate's brochure offered by the League of Kansas Municipalities.
---