FOR IMMEDIATE RELEASE 01/25/2023 - City of Neodesha Partners with Air Methods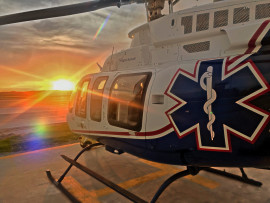 City of Neodesha Partners with Air Methods to Better Serve Residents in Need of Air Medical Transport
City enters into one-call agreement to provide fast, reliable transport
Neodesha, KS, Jan. 25, 2023 – The City of Neodesha recently announced they have entered into a one-call agreement with Air Methods to provide emergency air transport services to residents in need. Through this partnership, Air Methods will be the primary air transport service utilized by residents, whether they are being transported from local hospitals or require direct from scene air transport.
As a rural community, the City of Neodesha recognizes the importance of fast, reliable air medical services in the event of an emergency. Furthermore, they want residents to rest assured that in emergent situations, where every second counts, Air Methods' local MedFlight program is ready to answer the call and provide the highest level of critical care.
MedFlight, which recently celebrated 30 years of service, is equipped with a state-of-the-art aircraft and staffed with highly-trained clinicians who have demonstrated expertise with high-risk OB patients, ability to transport pediatric patients, available blood products, and the capability to provide specialized cardiac support.
"We are confident in their ability to provide high quality care when our community needs it most," said Mayor Devin Johnson. "We used to provide air medical memberships through a similar service for our residents, but through this agreement, there is no longer a need for individual memberships. With this new one-call agreement with Air Methods, we still have this same peace of mind knowing that we can rely on highly-trained clinicians to take care of our residents in the most critical situations as they arise."
Patients will have the option to request a different air transport provider, if available. However, since the introduction of the No Surprises Act earlier this year, insured patients are protected from large balance bills related to emergency care. Therefore, the patient will only be responsible for their deductible or co-pay regardless of the transport provider.
"We are very excited to enter into this agreement with the City of Neodesha," said Air Methods Regional Sales Director Aaron Bradshaw. "Our crewmembers' expertise is unparalleled, and we have confidence in our program's ability to meet the critical care needs of Neodesha residents."
In the event air transport is needed and Air Methods does not have an aircraft available, or the expected response time is not acceptable, other providers of air transportation will be contacted to ensure the needs of the patient are adequately met. 
###
About Air Methods
Air Methods (airmethods.com) is the nation's leading air medical service, delivering lifesaving care to more than 100,000 people every year. With over 40 years of air medical experience, Air Methods is the preferred partner for hospitals and one of the largest community-based providers of air medical services. United Rotorcraft is the Company's products division specializing in the design and manufacture of aeromedical and aerospace technology. Air Methods' fleet of owned, leased, or maintained aircraft features more than 450 helicopters and fixed wing aircraft. 
---